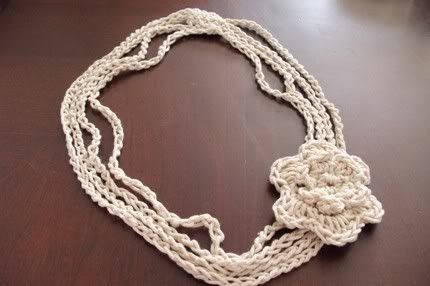 The owner and creator of
Schiers Knits
is one busy gal! This 20-something mom spends her days running after 4 small children while she knits, sews, and crochets like crazy. Always up for a new challenge, Kristal has found a way to turn a passion for knitting and crocheting into every product imaginable - from hats to shoes to toys, and even jewelry. There's nothing she won't try.
To learn a little more about Kristal and her creations, check out our interview with the artist, below.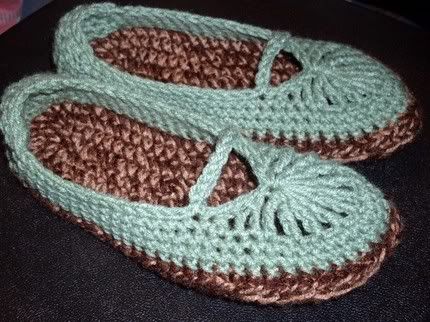 Donations for Katie
: Thanks for taking the time to chat with us! First, why don't you tell us a little about yourself.
Schiers Knits
: In 1991 I learned to crochet. In 1995 I decided to branch out on my crafting ability and learn to sew. And in 1999 I taught myself to knit. It was difficult at first, but I have managed to teach myself how to. I am always on the lookout for something new to learn so... From 2002-2004 I went to school and in 2004 I received my BA in Interior Decorating/Design and in 2005 I bought a knitting machine and taught myself to use it. I LOVE IT!! But that was not enough so over the next couple years I taught myself to finger knit, scrapbook and make jewelry. My most recent venture was how to bead weave. It is by far the most difficult thing to learn, but it is so fun.
DfK
: How did you get started in your craft?
SK
: When I was 10 years old my adopted grandma handed me a ball of yarn and a hook and said chain it. She showed me once and I did it, the whole skein. When I finished with that she handed me another ball of yarn and said okay now you are going to learn how to add yarn to a project and single crochet. She showed me and I did the whole ball. I was so interested in it that I started searching for every book and article I could find on how to crochet.
DfK
: What do you love most about your work?
SK
: The best thing about my work is that I can work at home and still be a stay-at-home-mom. It keeps me busy on my kids down time and I love that. I love getting to share my talent.
DfK
: Where do you get your inspiration?
SK
: My kids are my biggest inspiration. They are my little models for my products. They give me so many ideas when it comes to girly hats and boyish hats and they love to help me with colors and designs.
DfK
: What made you decide to support Katie through this auction?
SK
: I love to get involved in anything and everything I can when it comes to charities and fundraisers. I love to donate my time to help others.
DfK
: Anything you'd like to say to Katie directly?
SK
: You seem like you are a very friendly upbeat person. You are an inspiration. You show people that you shouldn't let anything get you down.
You can check out more of Kristal's work by visiting her
shop!
~ Sneak Peek ~
Wondering what crocheted creations Kristal will be offering for auction on the 19th? Check out this adorable bunny hat - just one of THREE gorgeous hats Kristal has generously donated on Katie's behalf. Want to see the other two designs? Come back on March 19th to place your bids!