Dandy Giveaway
is a delightful blog run by Tara, a mom and expert product tester who works from home. Every day she writes delightful blog posts about her new favorite things, posting detailed reviews of products her readers might like, and tons of fun giveaways with multiple chances to win gorgeous free stuff.
With thousands of hits per month and hundreds of devoted followers, Dandy Giveaway is bound to grow in popularity and success. Want to learn a little more about the mom behind it all? Check out our interview with Tara, below!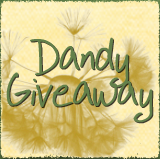 Donations for Katie
: Thanks for chatting with us! First, why don't you tell us a little about yourself.
Tara
: Well, I'm a college graduate turned SAHM.
DfK
: How did you get started blogging on Dandy Giveaway?
T
: There are lots of blogs out there that do giveaways, so I'm definitely not the first. People have been after me for a while to write a children's book since they like my writing style in our family blog. I thought that would be way too time consuming, so I decided to stick with the blog format. However, I do now have that children's book in the works and currently shopping it around to different publishers. :) I've really grown to love advertising for various companies and shops despite the fact that my degree is not in advertising. After all, I have a B.A. in Psychology! Possibly all of my time spent writing college papers has helped with the advertising, though. :)
DfK
: How do you find and choose the businesses you feature?
T
: I mainly look for things that the followers of the blog will be interested in. Items for themselves (women primarily) and children.
DfK
: Where do you get your inspiration?
T
: I like to try and find the good in everything. From my About Section of the blog: Why dandelions? Well, they were my late grandfather's favorite flower. That's right...he didn't view them as being a weed, but rather a beautiful plant! While others would become frustrated with how they overtook their perfect, green grass he delighted in their appearance. He would always regret having to mow them down, but they were hardy plants that would grow right back and spread across the lawn. I'm sure that his next door neighbors always loved how he was willing to share his dandelions with their lawns! :) Thanks Boompa for teaching me that all things in life can be just dandy.
DfK
: What made you decide to support Katie through this auction?
T
: I first learned about Katie through my advertising for Bella Bejeweled. Last summer was spent primarily taking care of my Nana who also has Lymphoma; taking her to doctors appointments, treatments, etc. So this type of cancer to particularly close to my heart. Nana's brain tumor is expected to be fully gone in the coming months. I now want to help others in any way that I can, so they know that it is possible to fight this and win. If a 75 year old woman can then anyone can!
DfK
: Anything you'd like to say to Katie directly?
T
: Stay strong! You can beat this! Even though it's hard...try and look for the positives in things. You have great friends who are doing this auction for you. That is a major positive. Take care of yourself!
You can learn more about Tara and her blog by visiting her at
Dandy Giveaway!
~ Don't Miss Out! ~
Tara has generously donated a full
6 MONTHS of advertising space
on her popular blog. This is an amazing chance to get your product seen by tens of thousands of viewers! Use the "browse the auction" links on the right hand sidebar to check out this and the other awesome items available now... Remember, the auction ends this Sunday night!