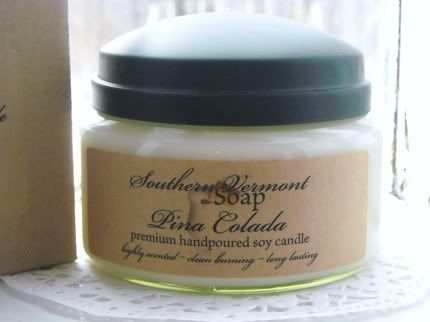 This candle is made with 100% soy wax and smells incredible! I use the maximum amount of pure, undiluted fragrance oil that the wax will hold, giving you a highly scented candle with amazing scent throw, both hot and cold.

Cotton cored wicks provide a cool, even burn.

This large candle will give you a minimum of 80 hours of burn time. For best results, burn for at least 2 hours the first time you light it. This insures a deep, even melt pool will form, allowing your candle to last longer and burn more evenly.

Your candle will arrive complete with kraft box and ribbon - perfect for gift giving.

You get to choose the fragrance!

Donated by Southern Vermont Soap - learn more about this and her other items by visiting her shop!

bidding starts at $6 - Leave your bids in the comments! Auction closes at 11:59pm Sunday night.